My County Banking Services
Relax, we'll bring the bank to you...
Try our new Business Online Banking demo
My County Cash Management
Our state-of-the-art online banking system gives you complete real-time control over all your Santa Cruz County Bank accounts. Manage your money safely from any Internet-enabled computer, any time 24/7. Transfer funds, view balances and transactions, view cleared checks, view electronic statements, pay your bills, send wires, stop payments, and more.
Learn more about Important Online Banking Information & Updates
ACH Manager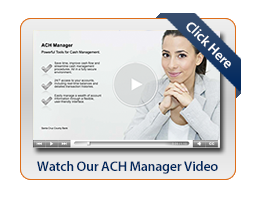 ACH Manger allows you to easily manage your finances. Explore how effortless it is to create new batches, make ACH payments & transfers, review recent activity, add & edit templates, and manage employee access. With ACH Manager you can download activity reports as well quickly view your recent ACH batch transactions. To learn more, watch the educational video to the right.
Wire Manager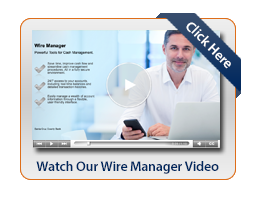 Wire Manager is a powerful financial tool that puts you in the driver's seat to safely send, manage and track your wires with the click of a mouse. Wire Manager contains robust dual-control, limit and notification options and coming soon, wire approvals on-the-go using the My County Business Mobile app! Already an online banking user? Contact our ebanking team to get set up on Wire Manager: ebanking@sccountybank.com or 831.457.5000.
Want to take a tour? Watch our step by step guide to Wire Manager educational video.
Fast Track Remote Electronic Deposit
Put your business on the fast track with Santa Cruz County Bank's Fast Track! remote deposit system. Fast Track! allows your business to make its deposits to the Bank without leaving the office. No deposit slips, no trips to the bank, no waiting in line!
My County Courier
Need extra hours in the week to run your deposits to the bank? My County Courier service saves you endless time and hassle so you can focus on running your business. Have your deposits picked up from your business at any location and at any time and frequency you designate. "On call" service is also available. Contact us for further details.
Santa Cruz County Bank offers the ability to expand your customer base and sales by accepting credit and debit cards for payment of goods and/or services. Once set up through our Merchant Card Services partner, your account will be credited for these payments electronically.
Merchant Gift Cards
My County Business Debit Card
An easy, convenient way to get cash at ATMs or pay for purchases - accepted anywhere that accepts Mastercard.
Ask for a Business Debit Card when you open your account. Available to sole proprietors only.
Click here to learn about Chip Card Technology.
Make payments through Apple Pay, Google Pay, and Samsung Pay with Mobile Payment.
Account Updater Service
Beginning October 2017, MasterCard requires all financial institutions to participate in an Account Updater Service (AUS), also known as MasterCard Automated Billing Updater. AUS will provide updates to merchants who maintain your card information on file, to process your preauthorized payments. Examples of these merchants include subscription services or utility companies, etc. This is only for Recurring Payment Merchants. This service will allow merchants to receive your updated card information, when you receive a new card for any reason (i.e. expired card, lost or stolen card, etc.) Santa Cruz County Bank is providing you the ability to opt-out of AUS should you choose not to participate. To opt-out please contact the Bank at ebanking@sccountybank.com or 831-457-5000
My County CardValet®
Get the mobile app that lets you control card usage and spending on the go.
Our CardValet® app lets you control all of your credit and debit cards. Save time and gain peace of mind knowing you can control the cards in your wallet with the phone in your pocket.
CardValet® lets you:
Turn your debit card on and off
Establish transaction controls for dollar amount limits, merchant categories and geographic locations
Receive alerts when your credit card is used, approved or exceeds the transaction controls set by you
Stay informed of potential fraud with alerts on attempted, declined transactions
Get real-time balances for your accounts
CardValet is a great tool for controlling business spending on your Santa Cruz County Bank debit card. Use the transaction controls for merchant codes, location and thresholds to ensure employee spending adheres to your company policies.
Get started! Download the CardValet application from the Apple® app store or Google play™ and register your cards. Click here to access our Quick Reference Guide for instructions.
My County Telebank
Access your Santa Cruz County Bank Account from anywhere by phone, anytime 24/7. With My County Telebank you can instantly check your balances, review deposit history, make transfers and much more.
To get started with My County Telebank, all you need is a phone and your account number. Dial 831.457.5002 and follow the automated instructions.